Lead screw for ROK fireproof switchboards
Description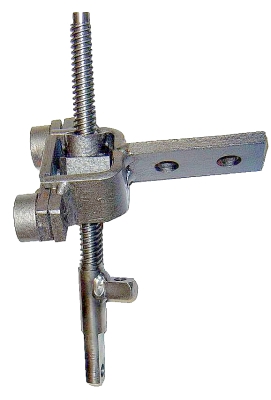 Application:
The lead screw is used to close the chambers of ROK … type distribution fields, manufactured by Zakłady Wytwórcze Aparatury Wysokkiego High Voltage ZWAR in Warsaw.
Construction:
The lead screw is made of a stainless steel rod, in the form of a trapezoidal three-way thread.
The cube of the lead screw mounting bracket is made of a block of quality steel.
The coupling nut of the bolt is made as a sleeve with an internal three-way thread.
Execution types
lead screw with cube without mounting bracket
lead screw with cube and mounting bracket
Download the catalog card:

Lead screw for ROK fireproof switchboards