Universal URO-1 type flameproof reflector
Description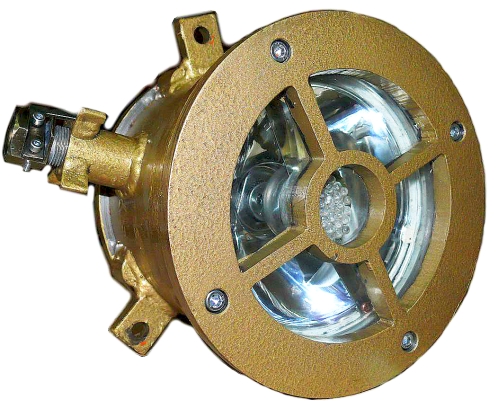 Application:
Universal flameproof reflector type URO-1 is designed to be installed in underground mining locomotives, it serves as a reflector illuminating the road while driving with long or dipped beam, and also red or white position lights.
Universal flameproof reflector type URO-1 It is also intended for use in other devices and machines in underground mining plants. It is particularly suitable for installation on mobile mining machinery such as loaders or drill trucks.
Rated data
Universal URO-1 type flameproof reflector:
| Type | Data |
| --- | --- |
| Supply voltage | from 12V to 30V AC/DC |
| The power of the light source | from 10W to 30 W |
| Light source type | LED H4 |
| Bulb cap type | P43t |
| Rated voltage of position lamps | 24V AC/DC |
| Position light red / white | Red and white LED element |
| Level of security | IP 65 |
| Ambient temperature range | -10oC ÷ +40oC |
| Cable inlet | WK-M22 – M22x1,5 |
| Power cord diameter | Ø10 ÷ Ø14 mm |
| Connection terminals | 4 mm² |
| External dimensions | Ø190 x 150 |
| Mass | 10 kg |
| WE-type examination certificate | OBAC 10ATEX592X |
| Feature of explosion-proof construction | I M2 Ex db I Mb |
The URO-1 universal flame-proof reflector is constructed as a bolted-welded structure. It consists of the following main elements:
headlamp body,
rear covers,
the front cover with the glass of the headlamp,
diffuser sheet with shade Ø144 mm.
Certificate
Universal flameproof reflector type URO-1has an UE-type examination certificate: OBAC 10ATEX592X from 26.04.2017r.carried out by OBAC – Center for Research, Atestation and Certification Sp. z o. o.
Center for Attestation and Certification Research OBAC Sp. z o. o., Notified Body No. 1461 in accordance with Article 17 of Directive 2014/34 / EU of the European Parliament and of the Council of February 26 & nbsp; 2014. certifies that the above-mentioned device, component or protective system has been checked for compliance with the basic safety and health requirements regarding the design, construction of the device and the protective system intended for use in potentially explosive conditions, as specified in Annex II of this Directive.
The basic requirements of safety and health protection were implemented by meeting the requirements of the following standards:
PN-EN 60079-0:2013 (EN 60079-0:2012)
PN-EN 60079-1:2014 (EN 60079-1:2014)
Universal flameproof reflector type URO-1 has the designation:


OBAC 10ATEX592X
I M2 Ex db I Mb


1461
Download the catalog card: