Universal fire absorber type UPO-1
Description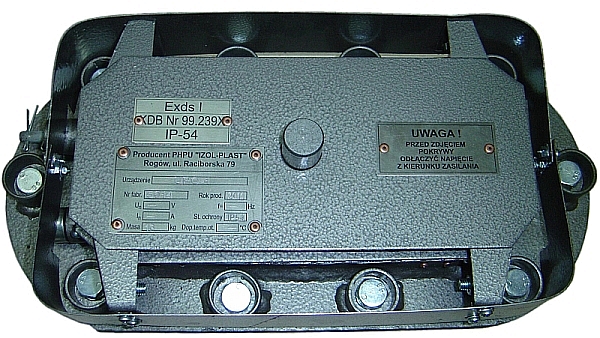 Application:
Universal Fire Absorbers UPO-1 są manufactured as spare part for flameproof transformer stations type IT3S … series of types of flameproof transformer stations type MAR -….. and ROK type distribution bays…
UPO-1 type fire absorbers are used to discharge high pressure that may occur in emergency conditions, especially in the event of an arc fault in a given GN or DN apparatus chamber.
The gases formed during the arc fault together with the particles of rarefied metals during the passage through the absorber are cooled and the metal particles are retained, which protects the environment against the effects of the initiation of methane or coal dust explosion.
Universal Fire Absorbers UPO-1 are fully compatible with "ZWAR" Warszawa P2 and P3 absorbers and "MEFTA" Mikołów P3 type absorbers.
Universal Fire Absorbers UPO-1 are equipped with M12 mounting screws with a hexagonal socket head in class 8.8.
Technical data:
| | |
| --- | --- |
| Type | Data |
| Dimensions: | 420 x 200 x 130 mm |
| Total weight: | 13 kg |
| Level of security: | IP-54 |
| Feature of admission: | ExdsI KDB nr 99.239x |
| Compliance with standards: | PN-83/E-08110, PN-83/E-08116 |
Admission:
The absorbers are certified by the "Barbara" Experimental MineL.Dz. KD-4/2556/99/716/inż DP and the feature of explosion-proof construction – KDB 99.239X.
Download the catalog card: