Major repairs of SBS-4 and SBS-5 underground traction battery boxes
OPIS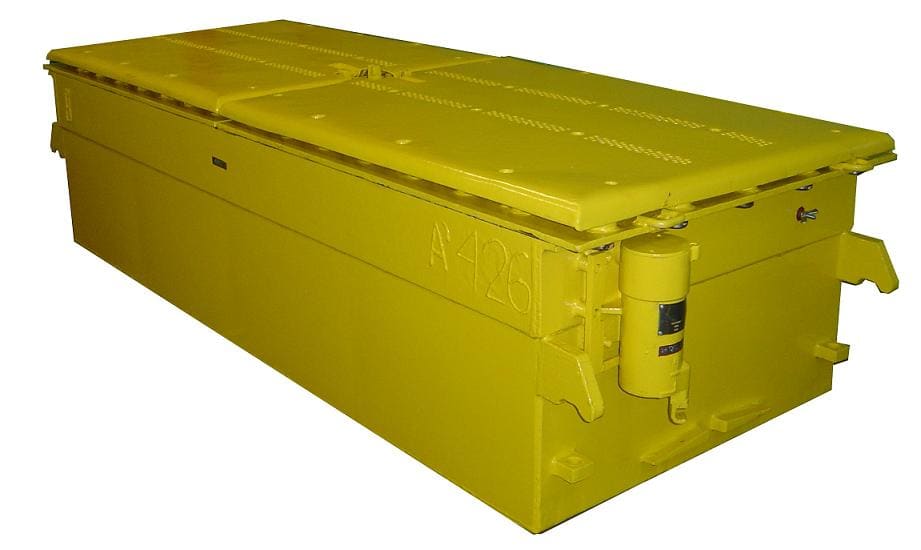 PHPU "Izol-Plast" Sp. z o. o. carries out major repairs of SBS-4 and SBS-5 type underground traction battery boxes, including:
repair of the mechanical part of the box,

repair of crate covers with replacement of nets,

execution of acid-resistant lining with electrical strength min 10kV,

refurbishment of power units,

replacement of energy units, using the cells – "TAB Polska Sp. z o.o.",

provides full documentation after renovation.
PHPU "Izol-Plast" Sp. z o. o. has the following documents authorizing him to repair SBS-4 and SBS-5 accumulator batteries:
Assessment of the Repair Plant's Capability, issued by OBAC: nr OBAC/Ex/032/OZR/15,
consent of "Konstal S.A." Chorzów for the renovation of battery battery boxes, letter no. TK-09-255 / 3850 of November 9, 1995,
approval WUG-Katowice L.dz.EM-717/4401/21/91, date 13.06.1991. for laminating the internal surfaces of the crates,

maintenance documentation of SBS-4, SBS-4A, SBS-4B, SBS-5, SBS-5A boxes for underground locomotives,
TYPES OF BATTERY BOXES
SBS-4 : cells 8EPzS-840L, 840 Ah
SBS-5 : cells 6EPzS-480L, 480 Ah
ADDITIONAL SERVICES
Installation of automatic electrolyte replenishment in battery cells using automatic plugs made by "TAB Polska Sp. z o.o.".
automatically determined electrolyte level,

electrolyte level indicator,

single point water connection,

simultaneous replenishment in all cells,

independent gas discharge system,

PVC piping.
quick and easy level completion,
limited water depletion,
fewer steps when topping up the electrolyte level,
limiting the possibility of electrolyte escaping into the box,
no corrosion on the surface of the battery,
no contact with the electrolyte.
low daily maintenance costs,
reduced expenditure on the supply of materials for handling,
lower operating costs,
lower expenses on battery servicing,
extension of the period until the next investment.
CAUTION
The offered power units have been positively assessed by KD "Barbara" , including the equipment with the aforementioned automatic electrolyte replenishment system.
APPROVALS
SBS-4 and SBS-5 battery repair technology approved by GIG KD "Barbara" in Mikołów and approved by WUG Katowice in the letter: GEM-4411/0018/96/15253 / HS of 04.11.1996 .
The technology of laminating the box with acid-resistant lining has the following approval: WUG Katowice L. Journal EM-717/4401/21/91 of June 24, 1991
EVALUATION OF THE COMPANY'S CAPABILITY
The company PHPU "Izol-Plast" Sp. z o. o. has a Capability Assessment overhaul of SBS-4 and SBS-5 battery boxes, issued by OBAC no. OBAC/Ex/024/OZR/18 with attachments, in accordance with with the Ordinance of the Minister of Economy of June 9, 2006 amending the regulation on occupational health and safety, traffic management and specialist fire protection in underground mines. (Journal of Laws No. 139, item 1169, Annex No. 5, item 10.13.4, dated September 2, 2002)