OiSP – Flameproof and intrinsically safe console box
Description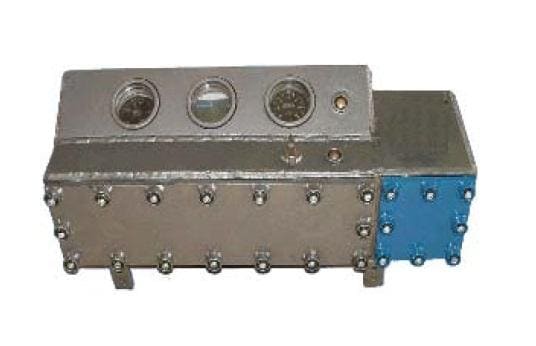 Flameproof and intrinsically safe console box
The flameproof intrinsically safe console box of the OiSP console is designed to house the control and signaling elements of explosion-proof battery locomotives type ELA-44 / 1,2,3. The box has a flameproof part with dimensions of 600x361x265 and a non-flameproof part for the room of intrinsically safe control devices with dimensions of 200x200x265mm. Between the flameproof and non-flameproof parts, an IPOG45x1.5 certified bushing – 20 wires is installed.
In the non-flameproof part, to which the intrinsically safe circuits are led out, there are devices with circuits
with intrinsically safe ones derived from the flameproof part. In the non-flameproof section there is a connector that authorizes the panel to perform the locomotive's maneuvers. The OiSP flameproof box is mounted in the locomotive to the front wall of the locomotive cabin on special grips.
Electric circuits from flameproof construction devices will be introduced to the flameproof part through certified inlets manufactured by PHPU "Izol-Plast", and intrinsically safe circuits to the non-flameproof part.
The flameproof and intrinsically safe box of the OiSP console as a flameproof enclosure is made in the form of a cuboid with dimensions of 360mm (height) x 265mm (depth) x 900mm (width).

Download the catalog card:

OiSP – Flameproof and intrinsically safe console box