Battery leakage meter – MUB-3A
Description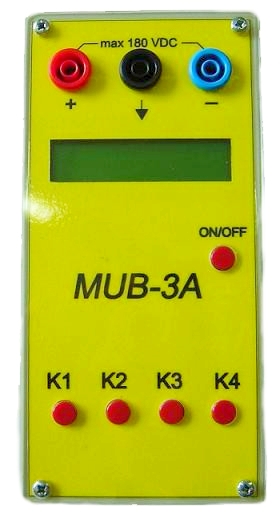 Application:
Handheld microprocessor type battery leakage meter MUB-3A measures the resistance of the box lining in SBS-4 and SBS-5 accumulator batteries, in accordance with the requirements of the standard BN-81/0462-03 "Flameproof battery boxes. Requirements and tests".
Gauge MUB-3A enables the following measurements:
– resistance measurement (given in megohms);
– measuring the voltage of the tested accumulator batteries;
– measurement of electrolyte temperature in battery cells.
The results are stored in non-volatile memory.
MUB-3A has the ability to transfer data from memory to a computer using the RS-232 serial port, and then read and print them in the program.
Automatic shutdown protects against deep discharge of the batteries.
Illuminated display of the meter facilitates work in dark places.
Technical data
| Type | Data |
| --- | --- |
| The range of the calculated resistance | 0÷1000 MΩ + (5%+1 numer) |
| Measuring voltage range | 0÷180 V DC + (1,5%+1 number) |
| Measured temperature range | 0÷55 oC (2oC+1 number) |
| Internal resistance | about 150 kΩ |
| Power | 12 V DC and an internal battery |
| Dimensions | 170x85x40 mm |
| Weight | 430g |
Together with the MUB-3A meter we provide:
test leads 3 pcs
temperature probe
data transmission cable
power supply for charging batteries
metal box for carrying the meter
manual user instructions.
The MUB-3A battery leakage meter can cooperate with the new generation of reinforced construction battery boxes, type SBS-4W, via the monitoring socket.
Download the catalog card:

Battery leakage meter – MUB-3A