DZ-3/1 type artificial neutral choke
Description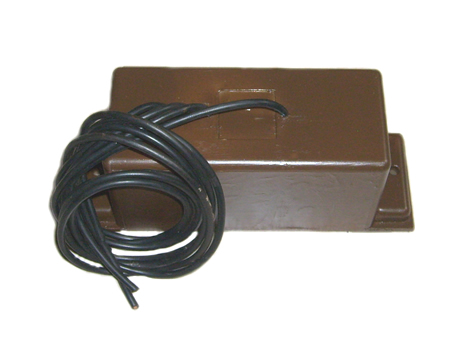 Application:
Artificial zero choke type DZ-3/1 is used to create an "artificial zero" for the UCMI universal control and protection device and RRgx-A type central-blocking leakage protection or other leakage protection against the effects of insulation deterioration in AC power networks, with an insulated neutral point, with a rated voltage up to 1140V 50 Hz, mainly in mining networks supplying mining equipment. "Artificial zero" is used to create a reference point in a 3-phase symmetrical network without the neutral conductor, against which the network insulation condition will be measured.
The electrical system of the artificial neutral choke type DZ-3/1 consists of three DX 3433 type chokes connected in a star, closed in one housing.
Artificial zero choke typeDZ-3/1 is intended for installation in the chambers of flameproof mining equipment enclosures, mainly in the DN equipment chambers of transformer stations of explosion-proof or shielded construction. It cooperates with the UCMI or RRgx-A protection blocking element through the contacts of the main protection switch.
Technical data:
Type
Data
Rated voltage Un:
1140 V, 50 Hz
Maximum working voltage:
1,1Un = 1254 V, 50 Hz
Inductance of phase conductors:
400H (150H)
Rated current:
1 mA ±30%
Electrical strength in relation to the core:
2,5 kV
Electrical strength of insulation:
4 kV
Choke winding resistance:
4 kΩ ±10%
Ambient temperature:
-10oC to +70oC
Level of security:
IP65
Dimensions:
Length: 198mm
Width: 67mm
Height: 76mm
Maximum values of the intrinsically safe circuit:
Type
Data
Circuit output voltage:
Ui max = 20 V
Circuit output current:
Ii max = 1 mA
Inductance:
(L1,L2,L3) – (N)
Li=400H, Li/Ri=112mH/Ω
Network capacity:
Co max = 1 μF per phase
The capacity of the intrinsically safe circuit:
Ci = negligible
Circuit intrinsic safety feature:
class intrinsically safe circuit ib
Certificates
Center for Attestation and Certification Research OBAC Sp. z o. o. on the day 29.05.2015r. issued a supplementary EC-type examination certificate: OBAC 08ATEX517U/1
The DZ-3/1 type artificial neutral choke has an EC-type examination certificate: OBAC 08ATEX517U from 29.01.2009r.
Center for Attestation and Certification Research OBAC Sp. z o. o., the body registered under number 1461 in accordance with Article 9 of Council Directive 94/9 / EC of March 23, 1994. certifies that the above-mentioned device or protective system has been checked for compliance with the basic safety and health protection requirements for the design, construction of the device and the protective system intended for use in potentially explosive conditions, as specified in Annex II of this Directive.
The basic requirements of safety and health protection were implemented by meeting the requirements of the following standards:
PN-EN 60079-0:2013

PN-EN 60079-11:2012
The DZ-3/1 type artificial neutral choke has the following marking:


OBAC 08ATEX517U
I M2 Ex ib I Mb
1461
Download the catalog card:

DZ-3/1 type artificial neutral choke